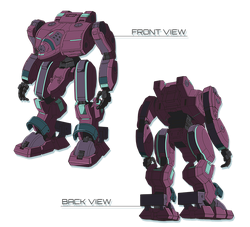 Gunbass (ガンバス, Ganbasu?) is a Trail Krieger that appears in the Shirogane no Ishi Argevollen television series. It is piloted by members of the Ingelmia Army.
Technology & Combat Characteristics
Edit
It has a low versatility, but makes up for it with mobility, an excellent frame for search operations, and electronic warfare.
Special Equipment and Features
Edit
It can also be equipped with fuel cylinders to fuel the propulsion system of this model. With this system, it gains an additional speed boost, which often is used for fast maneuverability.
Armaments
Edit
The Erk-19 GUNBASS is a mass produced Trail Krieger used by Ingelmia. [1]
The ammunition cartridges for the weapons aren't seen being reloaded or stored during combat.
References
Edit