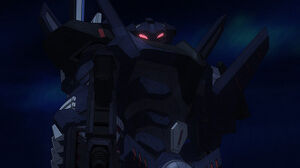 Sturm Alpha (嵐 アルファ, Arashi Arufa?) is a Trail Krieger that appears in the Shirogane no Ishi Argevollen television series. It is piloted by Schlein Richthofen, a Second Lieutenant of the Ingelmia Army.
Technology & Combat Characteristics
Edit
It is equipped with a special control system along with possessing a U-Link system.
Special Equipment and Features
Edit
It has an assault-rifle with high explosive rounds, but unique to the machine is a two-handed reinforced steel great sword  mounted on the back.
Armaments
Edit
The STURM ALPHA is a new Trail Krieger designed from the same technology used by Kybernes Manufacturing Company whom built the ARGEVOLLEN, although the STURM was built by Fordergrunt Incorporated. [1]
References
Edit
Ad blocker interference detected!
Wikia is a free-to-use site that makes money from advertising. We have a modified experience for viewers using ad blockers

Wikia is not accessible if you've made further modifications. Remove the custom ad blocker rule(s) and the page will load as expected.