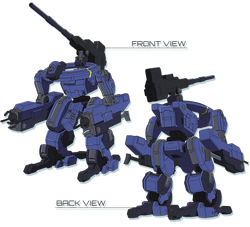 Tourmalia (トルマリア, Torumaria?) is a Trail Krieger that appears in the Shirogane no Ishi Argevollen television series. It is piloted by members of the Ingelmia Army.
Technology & Combat Characteristics
Edit
It's design aim was for logistical support with an artillery cannon. It sleeves parts to expand and hinge the elbow when pulling the trigger to absorb the recoil from the cannon. Also to allow accurate firing in intensified combat situations.
Special Equipment and Features
Edit
It has fixed machine guns in the palms and head.
Armaments
Edit
The ErK-22 TOURMALIA is a mass produced Trail Krieger used by Ingelmia. [1]
References
Edit